PRODUCT Overview
PRODUCT CENTER
AG-IPH5702-4G WIFI 4G Simcard IP Camera
2.0MP(1920*1080P@30/25/fps),1/2.8"Sony CMOS Sensor 3G/4G SIM Card Wireless SD Card IP Camera


1)Fixed 4mm Lens
2)3G/4G SIM Card Slot
3)Strong double antenna 5db
4)SD Card Slot for local storage
5)2pcs Array IR LED
6)Plug-Play easy Setting (APP: CAMHI)
Product Description
1.It's a real 3G/4G network camera, supports the 4G FDD-LTE/TD-LTE/WCDMA/HSPA+/TD-SWCDMA/GSM/GPRS/EDGE.
The Camera resolution Max 4.0MP/2.0MP/1.3MP option . It supports maximum 32GB--128GB internal TF card storage. It supports 24-hours video recording,
scheduled video recording,manual video recording, alarm video recording, video record searching, video record preview and video record download. The video record is stored as the standard AVI file.The system supports the 3G/4G hotspot function. The 3G/4G bandwidth can be shared by other WiFi devices when the WiFi AP mode is enabled. When you can't run network wire to the IP camera, you can use a 3G/4G wireless camera system.
Such as temporary construction site,farm,vehicle any place have 3G/4G covered is available .
Support Network:4G FDD-LTE/TD-LTE/WCDMA/HSPA+/TD-SWCDMA/GSM/GPRS/EDGE
Support Band:B1/B3/B7/B20/B38/B39/B40/B41/B26
Support Band of frequencies:FDD LTE Band7 / Band3/BAND1/BAND8, TD-LTE Band38 (2570-2620MHz) / Band39 (1880-1920MHz) / Band40 (2300-2400MHz) Band41 (2496-2690MHz),WCDMA/1900/2100/2600MHz, TD-SCDMA Band34 (2010-2025MHz) / Band39 (1880-1920MHz),EDGE/GPRS/850/900/1800/1900MHz
UMTS Band1 / Band2 / Band5 GSM 900 / 1800 / 1900 MHz
Network Speed:FDD-LTE/TD-LTE(4G):150MBPS/50MBPS,WCDMA(3G):21MBPS/5.76MBPS,TD-SCDMA(3G):2.8MBPS/2.2MBPS
2.Advantages of 3G/4G Wireless Camera:
Wide Coverage. As long as there is 3G/4G signal, this 3G/4G camera can be used. Now, most of countries and areas are covered with 3G/4G signal already
Freedom from cabling. This camera is cable-free; the 4G SIM card connects to the internet just like a cell phone.
Freedom from networking hassles. This 4G camera is plug-and-play, no need complicated IP network configuring like any normal wired IP cameras.
High Speed Bandwidth. 3G/4G provides high speed cellular network that enable the high quality and HD video experience.
Freedom from DVR hardware. This 4G camera is with SD Card Slot, you can insert a SD Card max. up to 128GB for local storage. No need DVR/NVR.
More Reliable.3G/4G technology is more stable and more reliable than wired internet.
Low Cost. No matter the hardware cost or installation cost, 4G camera will be more cost-efficient than normal wired cameras.
Easy for Surveillance. With P2P cloud technology, you can use mobile APP to watch online and playback SD card content anywhere anytime.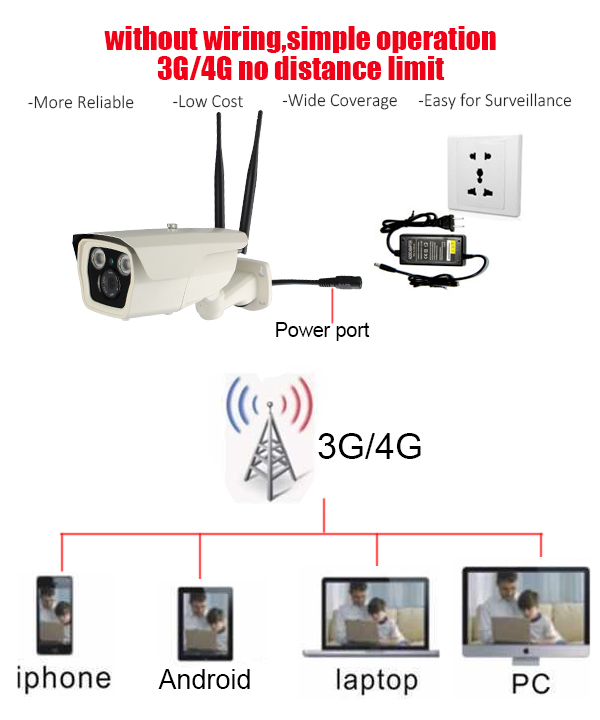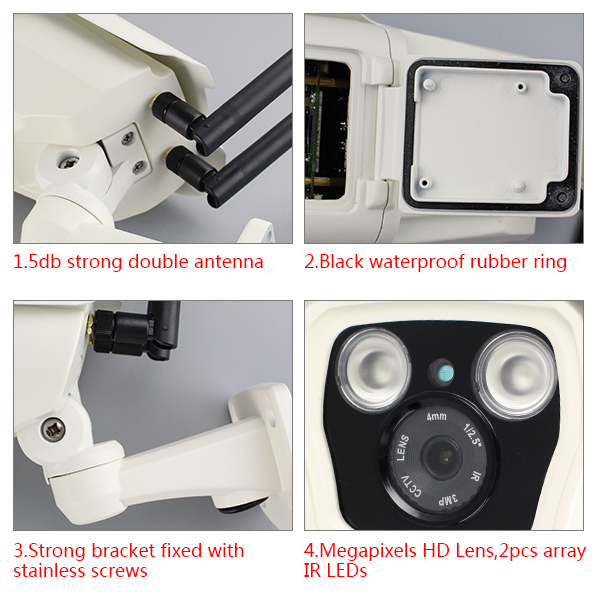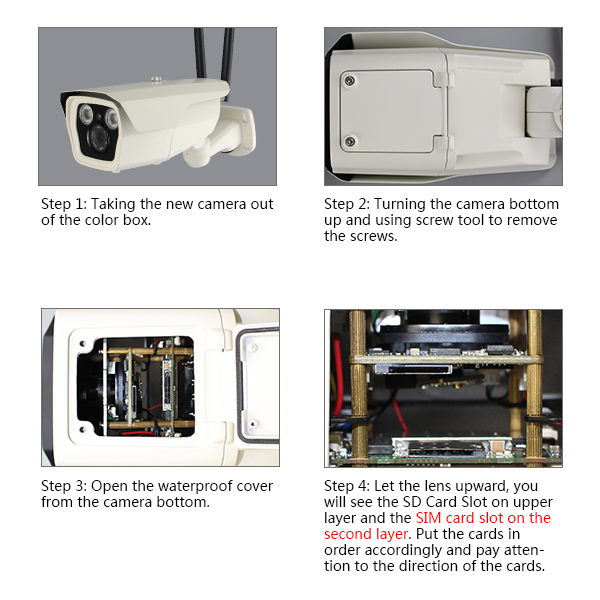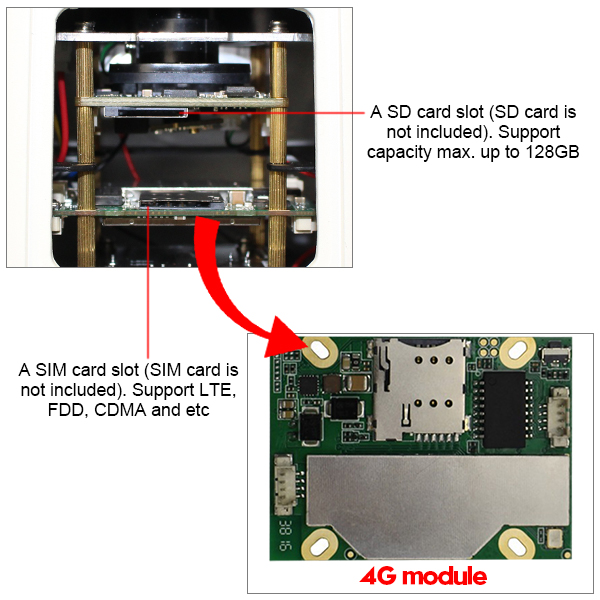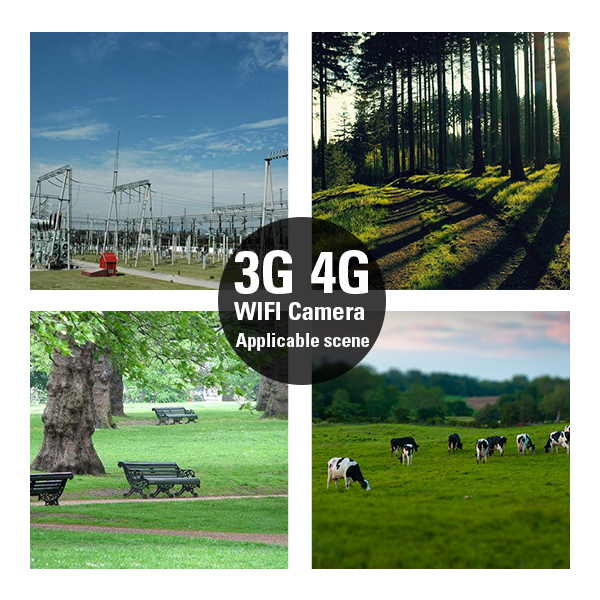 Model No.

AG-IPH5704-4G

AG-IPH5702-4G

AG-IPH57013-4G

Image Sensor

1/3" OV4689 CMOS Sensor

1/

2.8" SONY IM

X323 CMOS Sensor

1/3

" APTINA 0130

CMOS Sensor

Pixel

4.0 Mega Pixels

2.0 Megapixels

1.3 Megapixels

Len

s

4mm

3G/4G

3G

/4G

network standard

4G FDD-LTE/TD-LTE/WCDMA/HSPA+/TD-SWCDMA/GSM/GPRS/EDGE

Bands

B1/B3/B7/B20/B38/B39/B40/B41/B26

Transmission Speed

LTE FDD/TDD (Cat. 4) download 150 Mbps . Upload 50 Mbps

3G HSPA+ download 21 Mbps,Upload 5.76 Mbps

3G TD-SCDMA download 2.8 Mbps,Upload 2.2 Mbps

3G

/4G

Video Transmission channel

LTE B1/B3/B8/B38/B39/B40/B41 (CA not support)

TD-SCDMA B34/B39

WCDMA 2100/900MHz

GSM/GPRS/EDGE 900/1800MHz

Signal Strength Detection

Support

SMS

Support SMS sending

SIM card slot

Support. Standard USIM card.

SIM card lock

Support

Alarm

SMS Alarm

Support

3G Video Call Alarm

Support

Motion Detection Alarm

Support. 3 sensitivity levels: low, standard, high

Alarm Platform

Support iPhone push alarm

Alarm Video Recording

Support

Alarm recording

Support. The video will be recorded 5 seconds before the alarm triggered time.

Alarm Zone

Alarm Zone

Alarm Level

Alarm Level

Record

Record File Format

AVI file format

Record Storage

Internal TF Storage. FAT file system. Maximum 32GB

Recording mechanism

The least recently used file will be deleted when the available storage is less than 10%.

Manual recording

Support. User can start and stop the recording using the client application

Record searching

Support. Search by record time and type.

Record management

Support User can download, batch delete and one-click delete the record.

24 hours recording or scheduled recording

Support. Scheduled by week day and time. Each record can be 10, 15, 30, 60 minutes long.

Online Record Watching

Support. User can watch the whole video or preview the key frame of the video.

Auto

Auto Exposure

Support

Auto White Balance

Support

Electronic shutter

Auto Exposure

Wi-Fi

Wi-Fi

WiFi 802.11g/n

WiFi Mode

AP and STA mode. Switching comes into effect in 5 seconds

General

Day and night function

Yes

Clock

RTC real time clock. Support NTP and remote setting.

Voltage

12V DC

Power

Maximum power consumption12W minimum power consumption 5W

Working Environment

Working Temperature -10℃~+50℃,Working humidity 10%~90%